Collections
Collections
Brands
Brands
Stores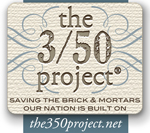 Museware Pottery LLC is carried by upscale gift stores, craft galleries and stationers nationwide. Our retailers display a minimum of five personalized samples, allowing you to see and feel the smooth, glossy finish of our hand painted pottery gifts.
Whenever possible, please choose your local brick & mortar shop for your personalized gift purchase. Local shops offer friendly, personal service and valuable gift-giving guidance. Get to know your local Museware Pottery retailer and you'll always know where to find the perfect gift for your next meaningful occasion. Buying locally supports independent shop owners and your local economy. No Museware Pottery LLC retailer nearby? Our online shop is open 24 hours a day.

If you know a local shop that you think would make a great Museware Pottery LLC retailer, please tell them about us and then let us know. If they become a customer, we'll reward you with a free gift.
Type your zip code into the map search bar to find your nearest retailer.
View Museware Pottery Stores in a full screen map